[ Innovations & Updates ] May 27, 2022
Our favorite product features on the Morressier platform
Scientific communities are constantly looking for innovative ways to solve problems relating to audience engagement, easy discovery, and the conference attendee experience. At Morressier, we want users to say goodbye to the limitations of sharing early-stage research. Since our inception, our products are consistently evolving as new features are added with more upgrades still in the pipeline.
Read what some of our in-house experts say about the exciting products and features they have been working on to improve the Morressier platform.

Eri Giannaka, Group Product Manager
Feature: 'Bring Audience to Stage'
"In my years as an early-stage researcher, coming from a small University, I always sought opportunities to connect with others and get the most out of my participation at conferences. With virtual events, active engagement and participation can become even more challenging. We put a lot of thought and effort into designing and delivering the "Bring Audience to stage" tool that allows any attendee to join a live session with their audio and camera and share their feedback or ask a question to the speakers directly in front of the virtual audience. This tool had an inherent complexity due to its live nature.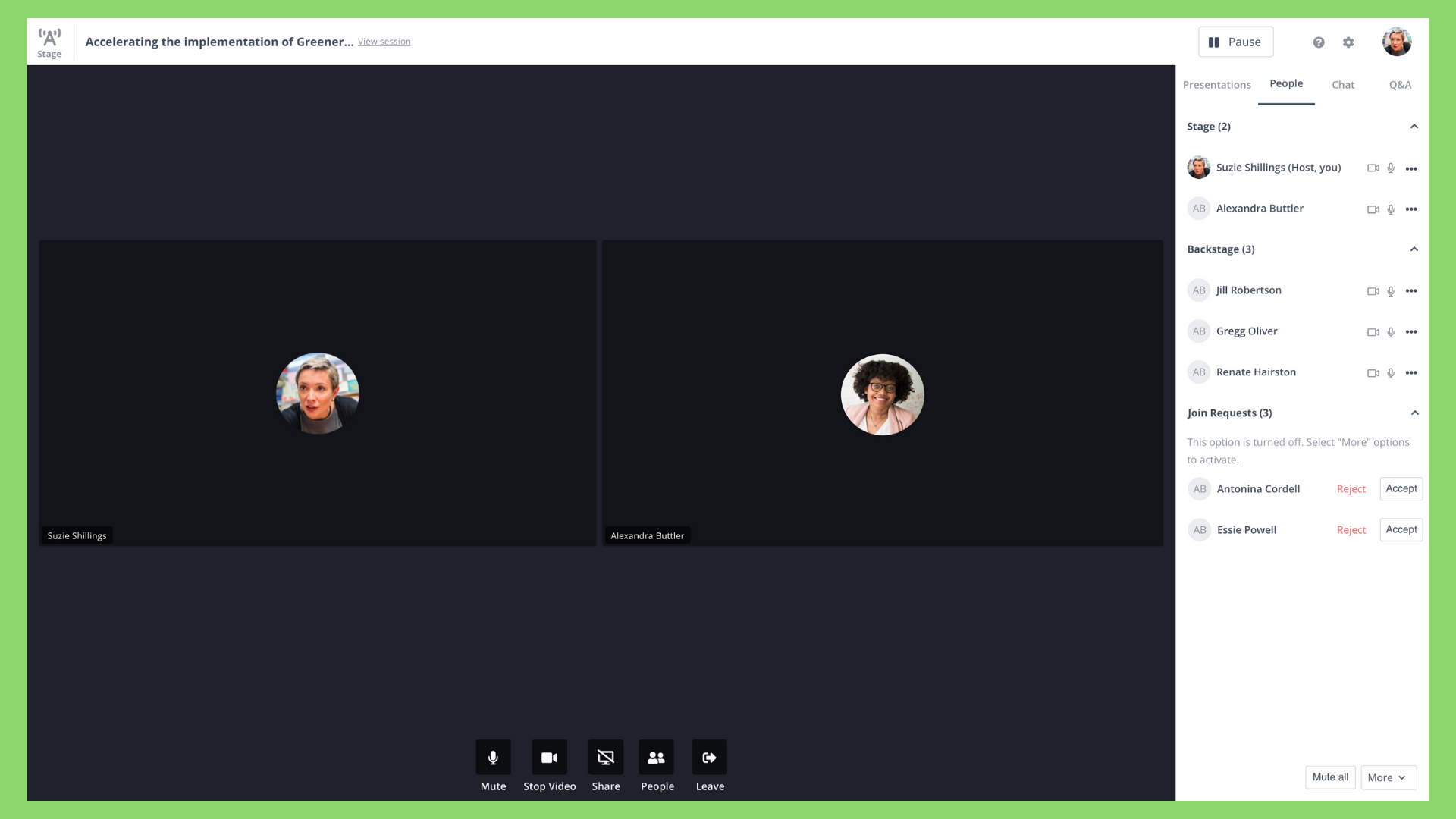 We needed to ensure that the audio and video of a joining participant would work properly to avoid awkward technical issues while live streaming. We needed to account for the fact that an attendee might be away from their computer when they get the green light to join the stage or even the case that an attendee gets cold feet and decides they are not yet ready to talk live with others. We had to put ourselves in the shoes of various personas in order to find any edge cases that would be integrated seamlessly into the flow and would not break the consistency of the live session. We were extremely excited to have this feature ready for our conference organizers and see it used by attendees. I hope that this tool will also help early-career researchers increase their presence, visibility, and networking opportunities during virtual and hybrid events."


Lena Stoll, Group Product Manager
Feature: 'Integrity checks in Peer Review Workflows'
"Research integrity is a major theme on our Peer Review Workflows roadmap. Some months ago, we integrated a similarity checker tool into our platform, which can flag documents when the authors submit them. This allows us to warn editors and conference organizers about potential issues with a document much earlier than in traditional publishing processes, avoiding frustrating and costly rejections or retractions further downstream.
We are now working on a feature that can identify potential cases of citation manipulation in research papers. This has been a rewarding challenge because it can only be solved with a truly cross-functional approach: from Design and Product to Data and Engineering, it takes many brilliant minds to make this feature effective. We want to make sure we consider what to do in the case of false positives and false negatives, as well as weigh up different options for guiding our users without making value judgments or decisions on their behalf. I love working with the team on these sorts of projects that allow us to tackle a challenging problem with creativity and a collaborative spirit, ultimately making a real difference to the world of science."

Margiorie Vielma, Software Engineer
Feature: "Organization and Handover of Proceedings"'
"From our workflows features released in the past few months, my favorites are the Organization of Publication, Publication Preview, Publisher editor view, and Handover of Papers to Production. We were a small team with new members joining each month. Those new features allowed us to create a whole new functionality that lets our partners organize their Journals.
The feature's design was amazing, good-looking, and easy to understand. However, we had some challenges uploading extra papers, generating the peer review statement, and managing the process of file handovers. The newly formed development team worked on this part, which included checking peer review in the background, copying files on the client's bucket, generating the excel file, and sending emails to the authors and publishers. It was amazing looking at all these proceedings delivered by IOP Publishing. I'm working on a new project right now, but I know the Workflows team will continue adding new features and polishing this area of the platform so that customers enjoy the best that can be offered."
In Conclusion
Conference attendee experience, seamless peer-review process, and content longevity are some of the key pain points in today's early-stage research landscape. As we focus on transforming the future of scientific collaboration and easing the adoption of hybrid conferences, Morressier remains in relentless pursuit of improved user experience and innovative products and services.
Need to learn more about our product's features and services? Get in touch with our team today.